'Little Terns and Sea Holly: three years at Gronant Dunes', a wryly witty account of three summers spent with these annoying, aggressive but very beautiful birds, a protected species, at their only Welsh nesting place.  Plus many watercolour illustrations.  £10.00 plus £1.27 postage and packing, first class.
'The City of Ottawa: the story of a sailing ship' costs £10 plus £2.64 postage and packing.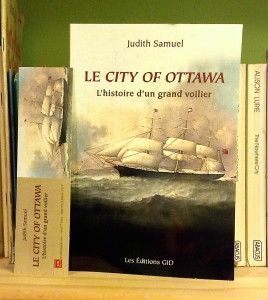 'Le City of Ottawa: l'histoire d'un grand voilier' (in French) costs £15 plus £2.50 postage and packing, if bought within the UK.
Please contact me if you would like any further information on: pastelbirdpainter@yahoo.fr
Books and paintings by the graphic artist involved in the 'City of Ottawa' book (English version) can be found on: http://www.crumpsbarnstudio.co.uk
Copyright Judith Samuel trading as Penlan Publishing